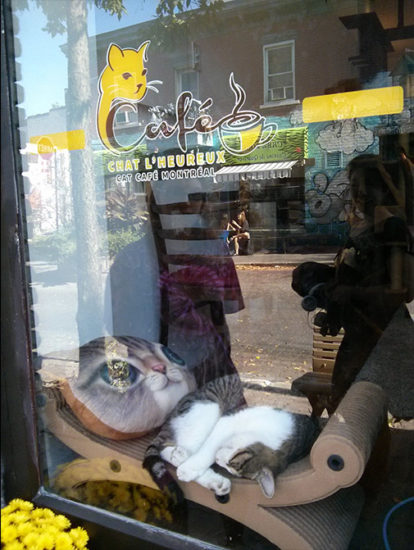 Café Chat L'Heureux
The Café Chat L'Heureux is a cafe/restaurant open to everyone where one can enjoy the company of cats while savoring beverages and quality products (see Menu). It is a relaxation space to enjoy a prolonged contact with cats in an optimized space for human/feline interactions. The Café Chat L'Heureux also wants to provide benefits of cat-therapy.
For the cats' wellbeing, we established rules that are clearly displayed upon arrival in the café and accessible here. All layouts were made to respect stricts hygiene and safety standards. Hence, at your entry in our establishment, we will dispose soap and ask you to wash your hands. You should also vaporize your shoes before entering inside the Chat l'heureux. You will find soap dispensers at different places and towels. Everything was thought to offer you an optimal experience.
There are two main areas inside the Café Chat L'Heureux. The first is a "bistro" section where one can sit quietly at a table to enjoy pastries or gourmet sandwiches. The second area will be a playground for everyone where customers can lay down with cats, play or learn with provided documentation.
You will find at Café Chat L'Heureux something to eat at every moment of the day : hot drinks, cold drinks, pastries, cakes but also delicious sandwiches, pies and salads including vegan and gluten free meals.
In addition to offering catering services, the Café Chat L'Heureux is an education place where one can find information about felines. The Café Chat L'Heureux shop proposes selected products by Educhateur and veterinarians to spoil your kitty. Café' Staff will gladly answer your questions on those products' benefits and their importance for cats' wellbeing. In our shop, you will find our brand products as well as a little deli counter for animals.
At the Café Chat L'Heureux, we have at heart cats' wellbeing and wish to offer our customers a true and unique experience. We will then offer educative and informative events, conferences with veterinarians, workshops for kids and zootherapy for disabled people and elders. Follow our schedule to participate in one of those events and learn more about cats.
Whether you are a cat lover, or you just want to know more about cats, or simply because you are looking for an original place to hang out, the Café Chat L'Heureux will be the best spot for you : from Tuesday to Sunday 11AM to 8.00PM.
A unique experience that you won't forget!
History
The Cat Cafe concept traces its roots in Taiwan 20 years ago. It then became extremely popular in Japan and South Korea. Western Cat Cafes were born only two years ago, the first one to open was in Viena, Austria in March 2012.
The Café Chat L'Heureux project was born in December 2013. Its founder Clement Marty embraced the concept when he visited Japan and South Korea in May 2012. The Café Chat L'Heureux was then the first Cat Café project in North America, which buzzed quickly. In January 2014, its founder started a crowdfunding campaign on indiegogo.com, which amassed $43000 in 45 days thanks to 1200 backers that are in the end pre-ordering their products. The media frenzy about the Café Chat L'Heureux project allowed the project to be talked about well beyond Quebec's borders. Rapidly joined by professionals from the Feline industry, Daniel Filion, CEO of Educhateur, feline behavioral specialist brings his expertise and knowledge for this project, cats' adoptions as well as introducing cats to their new environment. Everything was thought of in order for the Café Chat L'Heureux layouts to be a reference in feline well-being.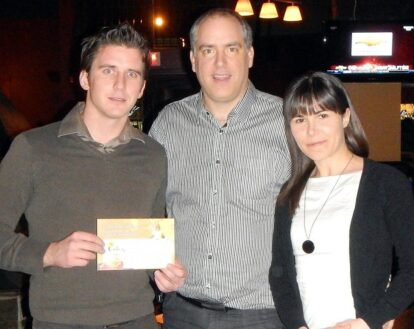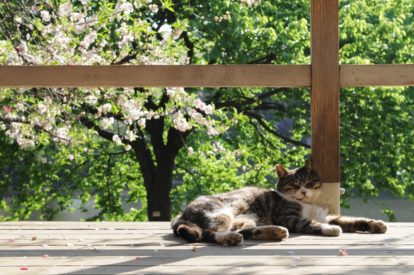 The concept
A Cat Cafe is a Tea salon which has the particularity of housing cats. Western Cat Café are very different from Asian Cat Cafes: it is a place to relax in the company of a feline, alone or as a group, while enjoying fresh quality products in a warm atmosphere. At the Café Chat L'Heureux, everything was conceived for our cats' happiness. This is not a simple cafe but a reference in terms of layouts for cats. Everything was conceived for Human-Feline interactions.
Today, having a pet is a decision taken on a whim confronted with the daily life. People are moving out more often and landlords don't allow pets inside their appartments. The Café Chat L'Heureux wants to be a substitute to everyone who can't have pets at home. The Cafe wants to contribute to give responsibility to pet owners on adoption while offering a great experience.
Benefits of cats are proven, they soothe anxiety and lower stress levels.
The cats
A dozen of resident cats at the cafe, with some of them up for adoption.
Will all come from shelters of Greater Montreal Area.
Several species of cats and ages: everyone will find his own cat.
Cats are chosen for their personnalities: loving, social, playful.
High hygiene standards with litters are set, they will be changed three times a day, and proper ventilation.