For those who want to help us, we are now taking donations to help us get through this crisis as many people have asked us: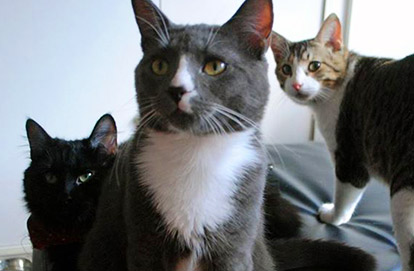 The Cafe
MEASURES IMPLEMENTED DUE TO COVID-19 ---

Our entire team wears protective equipment, ie a mask and eye protection in the restaurant. The counter is protected by a plexiglass.

Tables and chairs are spaced 2 meters apart and are disinfected between clients.

We have arranged bins to put the books which have been affected and which must be disinfected before being replaced in our library.
We accept all types of payment, our machine for payment is disinfected between each use.

We always ask to wash your hands before and after touching the cats. It is better to use soap in the bathrooms but there is also alcohol-based disinfectant available in the room and on entering.

-------------------------------------------
The Café Chat L'Heureux is a cafe/restaurant open to everyone where one can enjoy the company of cats while savoring beverages and quality products (see Menu). It is a relaxation space to enjoy a prolonged contact with cats in an optimized space for human/feline interactions. The Café Chat L'Heureux also wants to provide benefits of cat-therapy.
Whether you are a cat lover, or you just want to know more about cats, or simply because you are looking for an original place to hang out, the Café Chat L'Heureux will be the best spot for you : from 11AM to 8PM Tuesday to Thursday, 10AM to 10PM Friday, Saturday and 10AM to 8PM Sunday.
A unique experience that you won't forget!
Our mission !
Offer a substitute place to everyone who can't own a pet
Offer an adapted place to encourage human-feline interaction
Becoming a platform downtown to promote animal wellbeing, sensibilize everyone about feline needs and today's reality on owning a pet.
Bring back the want for adoption to many
Promote adoption in shelters, and more thought-through adoption. It is important to know that cat's adoption is not done based on its looks but by its personality.
The Café will host conferences and activites (Vet conferences, Zootherapy for elders and disabled people, workshop for kids)